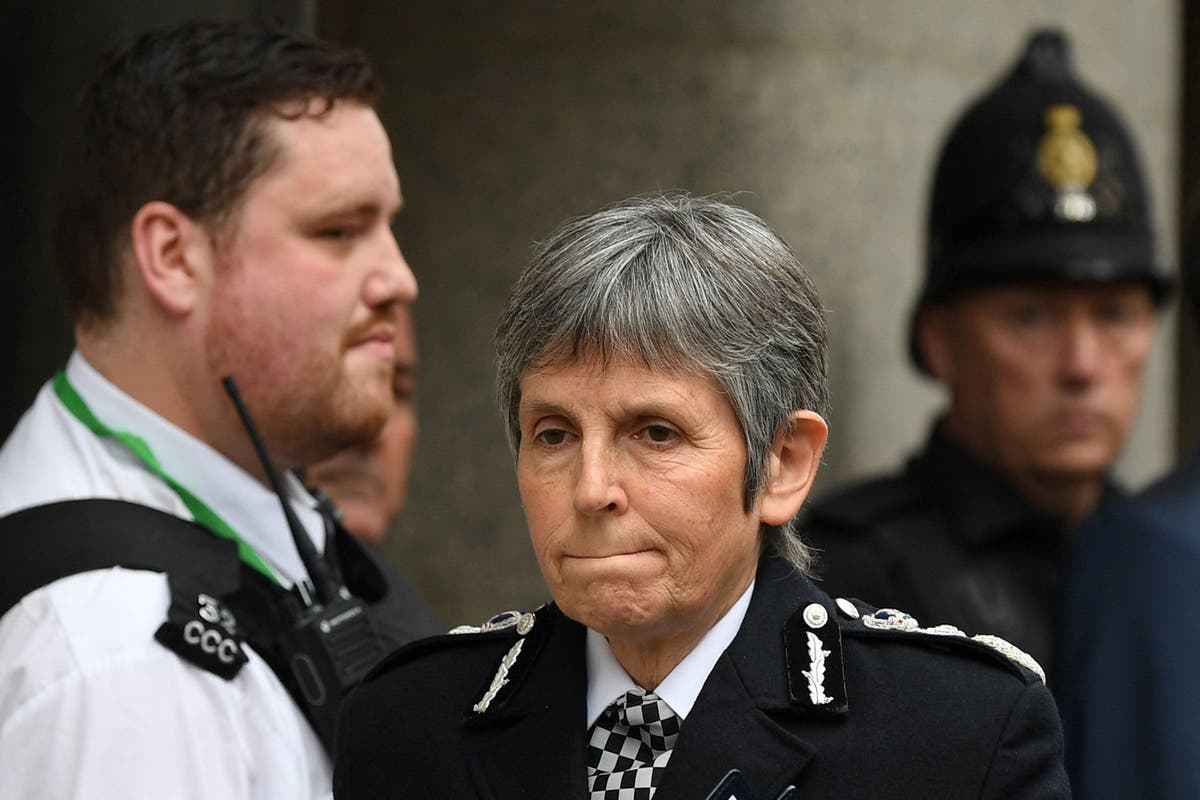 The Metropolitan Police was right this moment going through a livid backlash over "laughable" advice that women in worry of a police officer in the wake of the murder of Sarah Everard ought to flag down a bus or run away.
Labour home abuse spokesperson Jess Phillips branded the suggestion "unbelievable", whereas the previous chief of Conservatives in Scotland, Ruth Davidson, described it as "horrendous".
As requires Ms Dick's dismissal intensified, Boris Johnson tried to shore up belief in the police, insisting that they do "a wonderful, wonderful job", whereas acknowledging that there was an issue with the way in which that allegations of violence in opposition to women and women are handled.
Meanwhile, a Conservative police and crime commissioner, North Yorkshire's Philip Allott, was pressured to apologise amid outrage after he stated women ought to be "streetwise" and Ms Everard shouldn't have "submitted" to being falsely arrested and handcuffed by off-duty officer Wayne Couzens, who went on to rape and kill her.
Ministers had been coming below intense stress to amend the Policing Bill at the moment going by means of parliament to make tackling violence in opposition to women and women a proper precedence for severe violence models throughout England and Wales. Only eight of the 18 models at the moment in operation have included home abuse as a precedence in their plans.
Tory peer Gabby Bertin, who's preventing for the change, instructed The Independent that the federal government argues the models ought to have the opportunity to decide priorities regionally.
But she stated: "This isn't like knife crime or gun crime, which may be a priority in one area and not another. Violence against women and girls is a priority everywhere and preventing it and responding to it should be made a duty everywhere."


UK information in footage
Show all 50
Writing in The Independent, Ms Phillips stated that the whole-life sentence handed down to Couzens on Thursday ought to be a "pivotal moment" for the way in which violence in opposition to women and women is handled in the UK.
"We must turn anger into action and grief into policy change," she stated. "There are things the government can and must do to end violence against women and girls, and they must do them today."
It was "unbelievable" that the Met ought to reply by placing the onus on women to act in the event that they worry a police officer is a danger to them, she stated.
Advice issued by the drive on Thursday recommended that women approached by a lone plain-clothes officer ought to demand to know why he has no colleagues with him and ask him to show who he's, earlier than including that they might "shout out to a passer-by, run into a house, knock on a door, wave a bus down or call 999".
Ms Phillips responded: "How about the Met gets on with the job of telling us how they are going to improve their vetting, monitoring, training and disciplinary processes, rather than telling women to deal with the problem for them? How about the government tells us how they are going to ensure this is standard across every police force?"
Patsy Stevenson, who was arrested at a vigil for Ms Everard in the times following her murder, stated the advice was "almost laughable if it wasn't so disgusting".
"In that situation you can't just stop and hail down a bus or a taxi or something," she stated.
"Can you imagine the distrust that people have right now where they have to protect themselves from the police in that manner? That is shocking."
Scotland's First Minister Nicola Sturgeon tweeted: "It's not up to women to fix this. It's not us who need to change.
"The problem is male violence, not women's 'failure' to find ever more inventive ways to protect ourselves against it."
And the chief government of home abuse charity Refuge, Ruth Davison, stated: "Time and again, the responsibility is placed on women to protect themselves.
"This is simply not good enough. Police forces across the country must be prepared for a fundamental shift and overhaul in their attitudes towards women and root out the misogyny that is at the heart of these failings."
Labour MP Abena Oppong-Asare wrote to Ms Dick demanding "clarification" of the advice, which she stated had been greeted with "ridicule and derision" in her south London constituency of Erith & Thamesmead.
"The idea that a young black constituent could run away from a police officer attempting to arrest them and not face severe consequences is, frankly, unbelievable," stated Ms Oppong-Asare.
Former Lord Chancellor Charlie Falconer stated it appeared each the federal government and the Met Police had been merely hoping that "the storm passes without the need for change in senior personnel or practice".
Lord Falconer warned: "Unless there are massive visible changes as quickly as possible, confidence will not begin to edge back."


Tributes paid to Sarah Everard at Clapham Common vigil
Show all 36
But the one reform offered by Mr Johnson when he spoke to broadcasters was an effort to shorten delays between a grievance being lodged by a girl and the case reaching courtroom.
Instead, the PM centered on a message of reassurance: "I do believe in the police. I do think that we can trust the police. And I think the police do a wonderful, wonderful job.
"But there is a problem. And there is a problem in the way we handle rape, domestic violence, sexual violence and the way we handle the complaints of women and girls.
"Although the incidence of some of these serious crimes is not actually going up in the way that you might think – we are having success in getting many crime types down – the problem is we have too few prosecutions for rape and too few successful prosecutions, too few convictions."
Defending the federal government's refusal to make prioritising the battle in opposition to violence in opposition to women and women as a statutory responsibility, policing minister Kit Malthouse stated that the laws had been drawn in a manner which might permit native areas to "design their own strategies about the violence that particularly affects them".
He instructed BBC Radio 4's Today programme: "If there are areas that particularly want to focus on violence against woman and girls and feel they have a systemic problem, then the duty allows them to do that."
Ms Phillips described the remark as an "insult", including: "Imagine him saying that about terrorism – 'Do it if you want'."
And the Domestic Abuse Commissioner, Nicole Jacobs, stated that the responsibility to prioritise violence in opposition to women and women should be made express in the invoice.
"Domestic abuse and sexual violence must be strategic priorities for all forces," stated Ms Jacobs.
Former Met commissioner John Stevens has stated Ms Dick ought to be held accountable for an "appalling series of blunders" which allowed the recruitment of Couzens as a firearms officer.
But he stopped quick of demanding her resignation, saying that "both the commissioner and the politicians who have cut resources to the Met must take some responsibility".
Cuts throughout Theresa May's time as dwelling secretary had "hollowed out the centre of the force", stated Lord Stevens.
The Independent Office for Police Conduct is investigating allegations that 5 serving officers and one former officer shared "discriminatory messages" with Couzens in WhatsApp texts found through the police investigation into Ms Everard's murder.