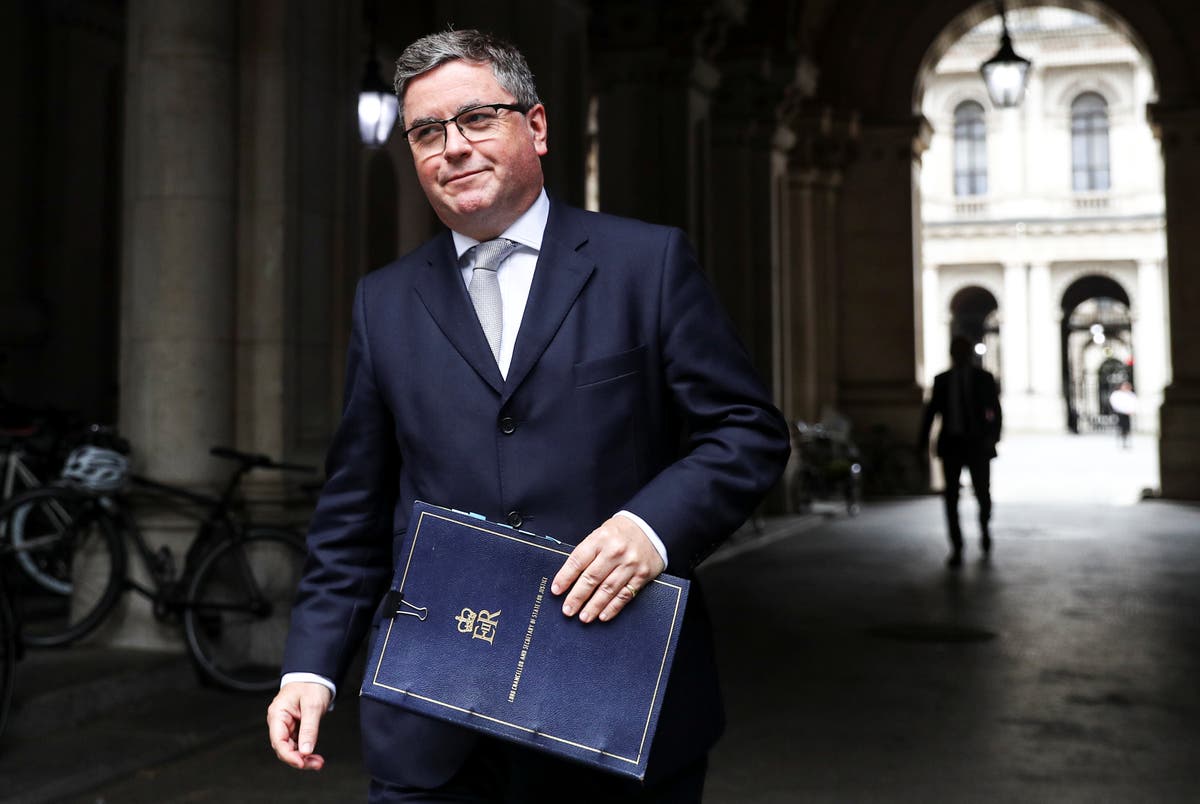 The authorities has claimed a raft of legal guidelines to increase prison sentences will "cut crime" and increase public security, every week after a minister mentioned harsher sentences have "limited or no deterrent effect".
The Police, Crime, Sentencing and Courts Bill, which is being launched to parliament on Tuesday, accommodates a variety of proposals together with 10-year jail terms for individuals who injury memorials.
It would additionally introduce harder penalties for serial burglars, knife carriers, killer drivers and youngsters who commit homicide, in addition to altering launch provisions to maintain some prisoners inside for longer.
The justice secretary, Robert Buckland, mentioned: "This government has pledged to crack down on crime and build safer communities. Today, we are delivering on that commitment."
Priti Patel, the house secretary, mentioned the invoice would "cut crime and make our streets safer". But the regulation was unveiled every week after a justice minister appeared to contradict their position.
Chris Philp, whose portfolio particularly covers sentencing, made the assertion whereas turning down a Conservative MP's request to increase the punishment for pet theft on 1 March.
"In the criminal justice system overall, the deterrent effect of sentence severity has received a high level of attention in wider research literature," he mentioned.
"The evidence is mixed, although harsher sentencing tends to be associated with limited or no general deterrent effect."
Ministry of Justice statistics present that the typical prison sentence in England and Wales is at the moment the longest it has been for a decade, standing at 19 months.
Legal teams blame authorities finances cuts for weakening the prison justice system throughout the board, and contributing to a rising backlog of court docket instances that's seeing "justice denied" as victims drop out.
The Conservatives' disastrous part-privatisation of the probation service, which is now being reversed, was partly blamed for growing reoffending, amid rising self-harm, violence and dysfunction in jails.
Peter Dawson, director of the Prison Reform Trust, accused the federal government of "using sentencing legislation to play politics".


UK information in footage
Show all 50
"Sentences for serious crime have been getting much longer for two decades now, turning our prisons into places of despair," he added. "But there is not a shred of evidence to show that this runaway inflation in punishment reduces crime.
"Hard cases make bad law, and this confused bill repeats the mistakes of so much other politically-inspired legislation with calamitous results."
James Mulholland QC, chair of the Criminal Bar Association, pointing to statistics exhibiting that greater than 40 per cent of rape and violence instances collapse due to "evidential difficulties as victim does not support action".
He mentioned that so as to defend the general public, "charges need to be brought in the first place for the myriad of serious crime reported to the police each week which fail to result in any form of prosecution through the courts".
"There is a unacceptable rise in criminal cases that fall apart completely after criminal allegations are made to police, pre charge, due in large part to end-to-end delays across the justice system as a result of underfunding from policing to court availability," Mr Mulholland mentioned.
Dr Kate Paradine, chief government of the Women in Prison group, mentioned: "There is no evidence that harsher and longer prison sentences make our communities safer or help rehabilitation. Alongside building more prison places, this Bill risks entrenching inequality and an already archaic system without solving the harms that plague our society.
"Prisons are a dead end that won't solve the poverty, domestic abuse, mental ill health and harmful substance use in our communities which underlies offending."
"We should be extremely cautious about continuing to increase sentences as a routine response to concerns over crime," Mr Gauke mentioned on the time.
"It is not a choice between hard and soft justice, it is a choice between effective and ineffective justice."
The plans have been scrapped after Boris Johnson grew to become prime minister and his authorities has launched a number of legal guidelines to increase prison sentences for various crimes.