UK News
Boris Johnson demands Taliban guarantee of safe passage for people fleeing Afghanistan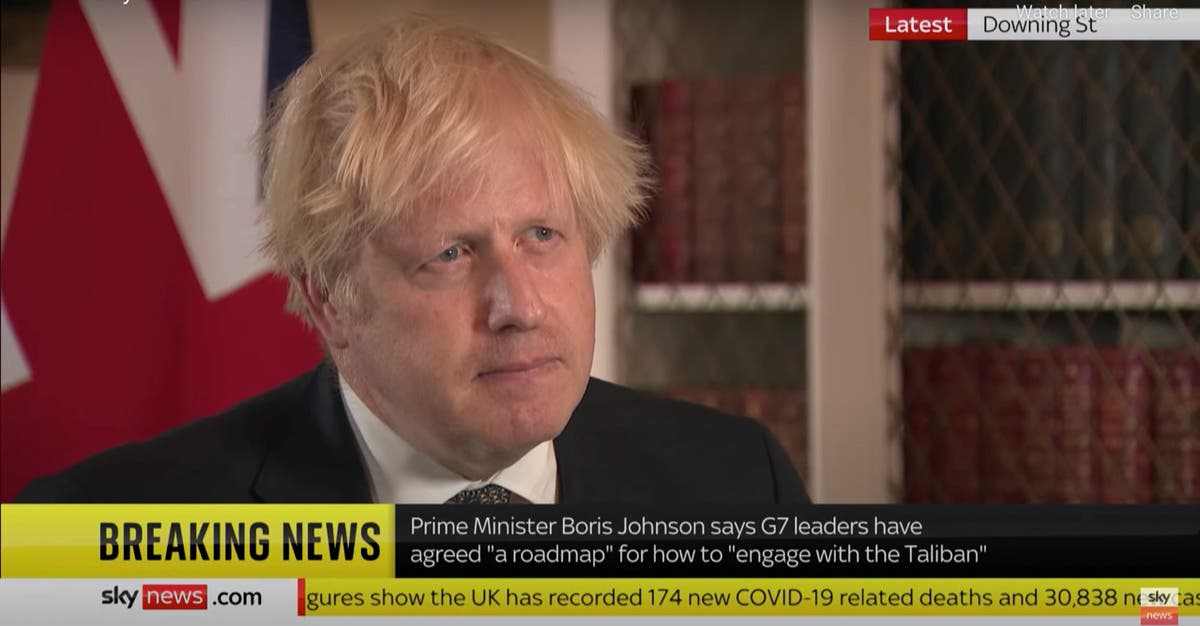 Boris Johnson demanded a guarantee from the Taliban of safe passage for these wanting to depart Afghanistan, after US president Joe Biden resisted strain at a digital G7 summit to increase the deadline for the withdrawal of American troops past 31 August.
The prime minister was talking shortly after chairing a digital summit of the G7 at which he and allies together with Emmanuel Macron and Angela Merkel failed to influence Mr Biden to increase the time accessible to evacuate 1000's of people from Kabul airport.
US administration officers indicated that the president was sticking to the timetable agreed with Afghanistan's new leaders, after a Taliban spokesman warned that the militant group would take "a different stance" if international troops stay within the nation past the top of the month.
In a joint assertion issued after their 90-minute video convention, the G7 leaders stated that their speedy precedence was to make sure the safe evacuation of their residents and Afghans who've labored with them.
"We expect all parties to continue to facilitate this, and to ensure the safety of humanitarian and medical personnel, and other international service providers," stated the leaders of G7 states the UK, US, France, Germany, Italy, Canada and Japan.
And they warned: "We will judge the Afghan parties by their actions, not words.
"In particular, we reaffirm that the Taliban will be held accountable for their actions on preventing terrorism, on human rights in particular those of women, girls and minorities and on pursuing an inclusive political settlement in Afghanistan.
"The legitimacy of any future government depends on the approach it now takes to uphold its international obligations and commitments to ensure a stable Afghanistan."
In a broadcast interview following the summit, Mr Johnson stated that an "extraordinary" UK airlift had already introduced round 9,000 people out of Afghanistan and promised it might proceed "right up until the last moment that we can".
But he acknowledged that his bid to safe extra days from Biden had failed, saying: "You've heard what the president of the United States has had to say, you've heard what the Taliban have said".
UK ministers have publicly accepted that British troops can not stay in Kabul with out the safety of a 6,000-strong US power and have acknowledged that any evacuations past the top of the month had been more likely to be depending on the co-operation of the Taliban.
Mr Johnson stated the UK was "confident" that it may get 1000's extra eligible people out, however stated that there have been public order points, describing scenes of frantic Afghans trying to get into the airport as "harrowing".
The PM stated G7 leaders had agreed a roadmap for the best way they'd have interaction with the Taliban regime.
"The number one condition we're setting as the G7 is that they have got to guarantee, right the way through 31 August and beyond, safe passage safe passage for those who want to come out," stated Mr Johnson.
"Some of them, I hope, will see the sense of that because the G7 has very considerable leverage, economic, diplomatic and political."
European Council president Charles Michel and European Commission president Ursula von der Leyen made clear they had been amongst "several" leaders on the summit who expressed issues in regards to the 31 August deadline and urged Mr Biden to increase it.
"We raised the issue with our American friends … the need to secure the airport as long as is necessary to complete the operations," stated Mr Michel in a press convention in Brussels.
He additionally known as on the Taliban to permit "safe passage" to these making an attempt to achieve Kabul airport and any Afghans who want to go away the nation after the deadline.
Mr Johnson stated that he was "totally realistic" in regards to the nature of the Taliban, which imposed a brutal fundamentalist rule in Afghanistan previous to its overthrow in 2001, however insisted that democratic international locations ought to have interaction with the group and attempt to exert an affect on its actions.
"I don't think that anybody is going to pretend that this is anything other than a very difficult situation, but that doesn't mean that we should ignore the leverage that we have," stated the PM.
"If there's huge funds that are going to be unfrozen eventually for use by the government and people of Afghanistan, then what we're saying is Afghanistan can't look back into becoming a breeding ground for terrorism, Afghanistan can't become a narco state, girls have got to be educated up to the age of 18 and so on.
"Those are important things that we value as the G7, those are the things that unite us, they are things for which we fought for years in Afghanistan, for which people in this country gave their lives.
"And the point that was made today by G7 leaders, is that we remain committed to those values, and we remain committed to Afghanistan. But the number one condition that were insisting upon is safe passage beyond 31 August or beyond this initial phase for those who want to leave Afghanistan."
Mr Johnson performed down the prospect of any future navy intervention by G7 states in Afghanistan.
After centuries of international states together with Britain sending troops to Afghanistan, he stated he hoped that "there is now a different path forward to a better future".
"I don't think anybody is going to believe that this is going to be easy or that this is likely in the short term, but there has got to be a world in which the people of Afghanistan find the leadership, find the wisdom to come together to make accommodations with each other – for the Pashtun to to sit down with the Tajiks and the Uzbek and the Turkmen and all the factions to get together finally to agree on a way forward for that country," stated Mr Johnson.
"The point that Joe Biden has been trying to make is that it is very difficult for Western powers to try to impose that sort of order on a country if a country is unwilling to do it itself.
"I think what we all want to see now is the UN helping to lead a political process that will try to take Afghanistan to a different future without Afghanistan feeling it has to subcontract or outsource its government to foreign powers or to expeditionary forces. That's got to be what we're all working for. It'll take patience and it will take time.
"But in the meantime, what we need to do is to use our very very considerable influence as G7 to work on the new powers in Afghanistan, to insist on safe passage, and to follow the path that we think is compatible with our values and which will enable us to engage positively with them in the future."